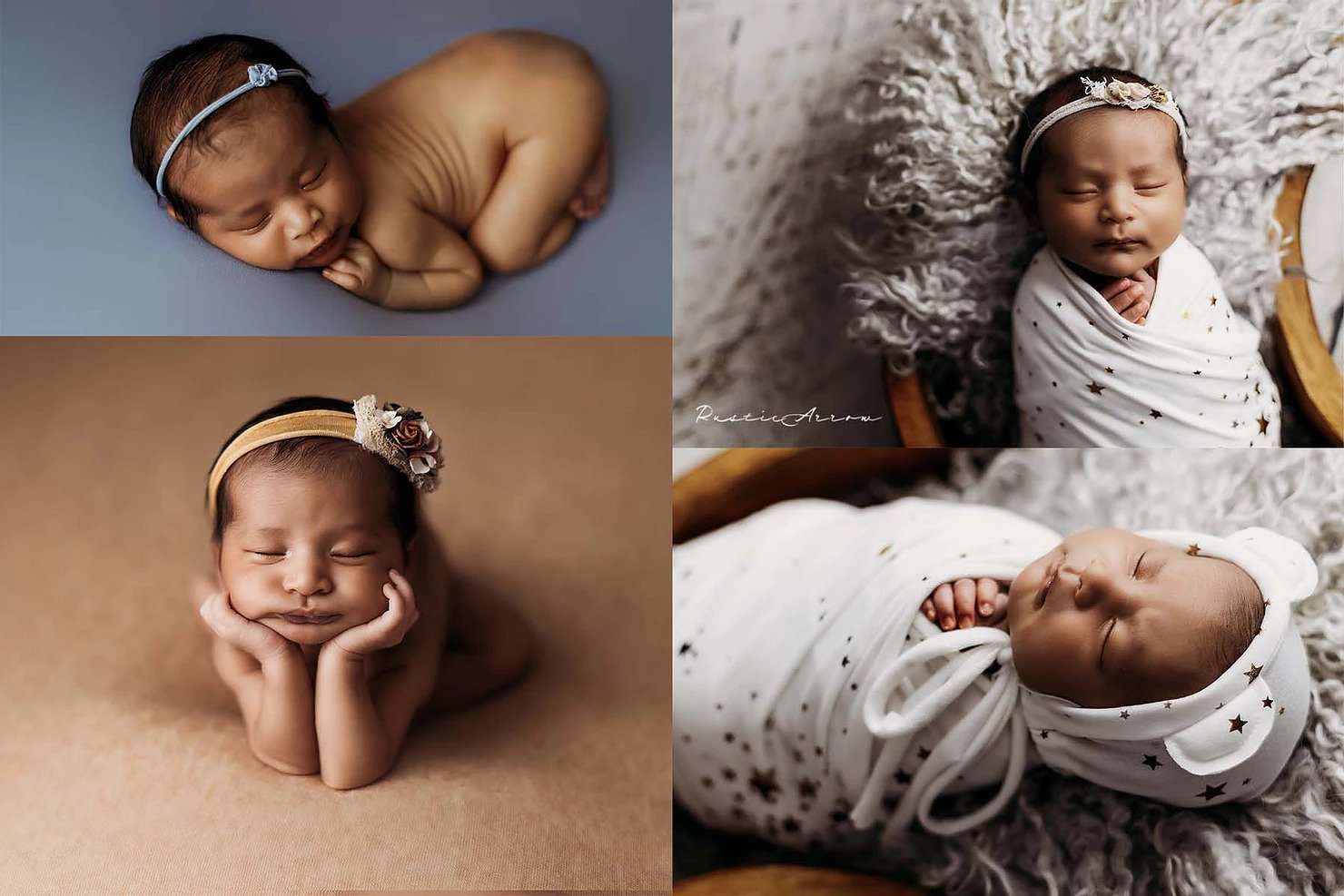 Sweet Arianna… She was awake almost the entire session. However, when she did fall asleep her session went quite quickly. haha.
Arianna's momma, Vicky, asked me if I would be willing to do a studio session at her home, as she was staying home a specific amount of days as part of her culture. I agreed to do this, and it was so adorable.
Vicky and I worked through the types of poses she wanted most so that we could optimize the time spent on the session getting images she was truly looking for. She decided to go for the egg wrap pose, potato, froggie, and bum up pose. Then she also requested that I do some fur images.
The day before the session, I received a moon bowl prop that I had ordered and knew I had to use it for her session. I brought the moon prop with me, filled it with my gray fur, and wrapped her in my white star wrap, to make it like the moon and the stars. I paired it with a new floor backdrop I just received as well, and it made for such a cute image.
As I said before, Arianna was wide awake at the beginning of her session, which allowed me to wrap her in the egg wrap and get some awake images of her. During the bum up pose, she was perfectly content while being awake, but then she did start to get a little fussy. Turns out she just needed to go to the restroom. Luckily, I got the images I needed before I had to change out the backdrops because of the mess that was made. You see, it's perfectly fine that babies go to the restroom on my drops, as it's easy to wash out. I let her mom know that it was perfectly fine that she went, even though she was apologizing profusely that she went #2 on my stuff. But really, it's perfectly fine and it's something they can't help it.
All in all, we got some amazing images of Arianna, and I felt honored that Vicky chose and trusted me to come into their home during all the COVID mess happening.